Welcome to Mount Coggill country house built within the ruins of a traditional farmhouse on the Kilkenny, Carlow boarders in South East Ireland. The house was remodeled in 2000 using green oak. The main house is spacious and will sleep 8 comfortably.

The house sits on top of a hill over 400 feet above sea level. There are panoramic views of the surrounding mountains and the Kilkenny plain. It is set in 30 acres of farm land and forest. The garden is semi-wild with grassed areas. It is a very unusual house set in splendid isolation down a rough country boreen (small lane) which leads only to this house.

Please note: The house is not safe for children under 8 and the owners live in the adjoining flat at the end of the house.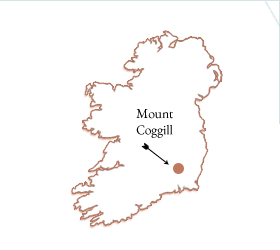 mount coggill house
---
Sleeps 8 people | cost per night €480 |
More info
(Click on one of the above images to view the full size photo)